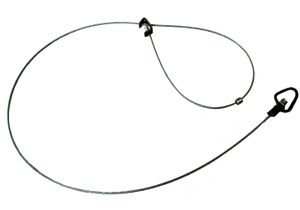 | | |
| --- | --- |
| | Roll Over Image to Enlarge |
Product Description
Fleming snares are recommended for small game and furbearers such as beaver, lynx, bobcat, otter, wild pig, coyote, etc. They are made of 60" of 1x19 alternate lay I.P.S. 3/32" cable. These snares feature the Sure Lock self-locking mechanical neck lock and end swivel. 12 Pack

Snaring is an easy and inexpensive way to trap. Snares are light weight, require less equipment and, in many situations, can be set in locations where other traps can not. Many snare sets can be made faster than other trap sets saving you time.

Place your snares in trails, log crossings, front of cubbies, any place you would set a body gripper trap, and culverts under roads.

Make sure to stake or tie down your snare well as animals that are snared have all four legs for traction and pulling. Swiveled Snares have swivels that fit easily on either 3/8" of 1/2" rebar stakes.

The entire lock and snare loop can be slipped through the swivel to function as a tree lock or and adjustable snare tie off. Deer stops are in the snare loop so you can crimp at the size you prefer to prevent catching a deer by the leg.